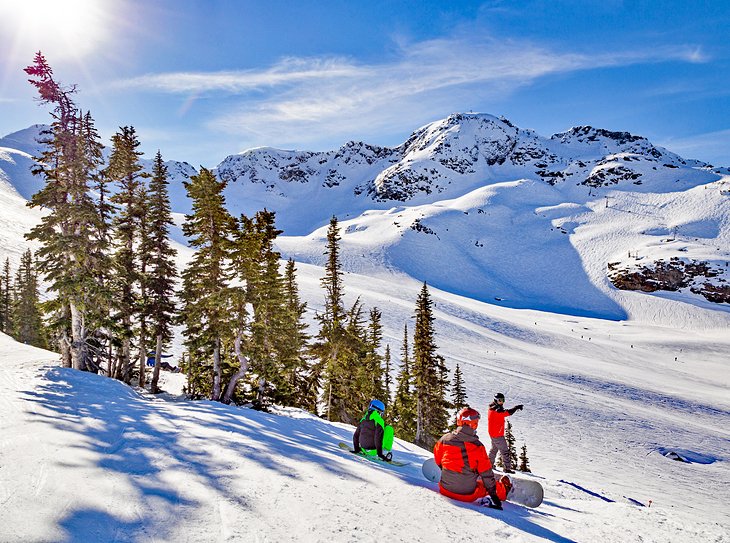 Here in Spokane, we are lucky to have several ski and snowboard resorts less than two hours away. Whether you are a beginner and looking for lessons or an experienced skier or boarder you have options for which mountain to head to for the day, or maybe a weekend getaway.
Every mountain has different amenities and is perfect for friends or families. Learn a little more about each of these mountains below and head over to their website to find pricing for lift tickets. In this post, we take a look at the best ski & snowboard resorts near Spokane, WA.
Ski & Snowboard Resorts In This Post:
Mt. Spokane Ski and Snowboard Park
49 Degrees North
Schweitzer Mountain
Silver Mountain Resort
Lookout Pass Ski & Recreational Area
5 Must-See Ski and Snowboard Resorts Near Spokane, WA
1. Mt. Spokane Ski and Snowboard Park
Mt. Spokane is the only non-profit ski resort in the area and is just 18 miles Northeast of Alkaloid Cannabis Company. The mountain is over 1,700 acres and offers 52 runs with 6 lifts. Whether you are a beginner or an experienced skier or boarder there are runs for everyone. There is also an amazing terrain park built with the snowfall from the year. As more snow comes, more features are built in the terrain park.
Mt. Spokane is a great place to check out with friends or have a family day enjoying the beauty of winter. If you have never been skiing or boarding before you can register for group or private lessons, the lessons are for ages 7-adult. Mt. Spokane also offers rentals for all gear needed to have a great day on the mountain, just make sure you dress warm and have your snow pants and a good jacket.
For more information on Mt. Spokane and to see lift ticket prices and rental prices head over to their website. Mt. Spokane website
2. 49 Degrees North
Located in Chewelah, WA, 49 Degrees North is 38 miles north of Alkaloid Cannabis. With over 2,300 acres to explore, 49 Degrees North has 86 runs, with plenty of options for beginners, intermediate, experienced skiers, and boarders. There are seven chair lifts to take you between the two mountain peaks and three basins. With two terrain parks on the mountain, there is lots of areas to explore and have a great day at 49 Degrees North.
There are several options for food on the mountain, start your day off at Quick Turn Café with breakfast and a warm beverage. On your lunch break head to Boomtown Bar and Grill where there are many options for food and drinks.
49 Degrees North has lots of classes for all age groups if you are a beginner and need some instruction. You can get a one-time lesson or sign up for multiweek programs if you are looking to gain experience before the season is over.
49 Degrees also offers daycare and lessons for children ages 2-6. Don't have the gear needed to hit the mountain? No worries, you can rent all the gear needed for skiing and snowboarding, make sure you have snow pants and a jacket.
To check out lift ticket prices and information about lessons head over to their website, and if it's your first time, make sure you check out their tips for first-timers. Learn about 49 Degrees North
3. Schweitzer Mountain
Schweitzer Mountain is the largest ski and snowboard resort in the area with 2,900 acres of lift-serviced terrain and has options for tree skiing (over 1,200 acres of trees) multiple bowls, and 29 trails. Just 55 miles Northeast of Alkaloid Cannabis company, this mountain is the perfect place to head for a day trip or a weekend getaway. Schweitzer is a true resort mountain with 16 restaurants and cafes and lodging options ranging from hotel style to larger condos to rent you can make your trip unforgettable.
Looking to do some shopping? There are also several retail shops for your winter gear and the Artist's Studio, which has artwork for local artists. Schweitzer offers ski and snowboarding lessons for beginners, intermediates, and experts. You can schedule a private lesson or head out with a group and make some new friends.
The mountain also has child care available for children ages 4 months to 6 years old. All childcare staff are CPR and First Aid Certified to ensure the safest possible environment for your children. Schweitzer also has ski and snowboard gear rentals for those who need skis or a board. Make sure you bring your own clothing.
Head over to their website to plan your weekend vacation. For information on lift tickets
4. Silver Mountain Resort
Silver Mountain Resort is in Kellogg, Idaho, and is 61 miles from Alkaloid Cannabis Company. The mountain first opened in 1990 and offers both winter and summer activities. To get to the ski and boarding lodge you will take a ride on North America's longest gondola, heading 3.1 miles up the mountain. Silver Mountain has over 1,600 acres to explore with runs for beginners, intermediates, and experts
The resort also offers night skiing with 50 acres of the mountain open for those wanting to experience skiing and boarding in the dark. Not only does the mountain have ski and snowboarding runs, but there are also trails for snowshoeing but also a snow tubing area for ages 2 and up.
At the base of the mountain, you can find the Silver Mountain village with dining options, a hotel, and the Silver Rapids indoor waterpark. The waterpark has several waterslides, a lazy river, and play areas for children. When you are planning your trip to Silver Mountain make sure you check out the bundle deals that include lift tickets, lodging, and waterpark passes.  Don't have the gear needed to hit the slopes? No worries, Silver Mountain has ski and snowboard rentals available.
Check out more of the amenities and more on their website. Silver Mountain website
5. Lookout Pass Ski & Recreational Area
Head over to the Idaho/Montana border and check out Lookout Pass Ski & Recreational Area, located 98 miles from Alkaloid Cannabis and right off I-90. The addition of Eagle Peak has added hundreds of acres to this amazing mountain, coming to a grand total of 1,023 acres with 52 named runs to shred. Lookout Pass gets over 33 feet of snow over winter and has amazing fresh powder to have fun in.
If you are an experienced skier and love to get in the trees, Lookout has lots of treed areas to explore, and several Double Black Diamond runs. Warm up in the lodge with some food from their International Food Court or head to The Loft Pub & Grub.
Lookout Pass has group and private lessons available for ages 4 and older. There is also a rental and repair shop on the mountain for those needing gear or if your skies/board need some TLC. There is no lodging offered on the mountain but there are several options in Wallace, Idaho, a 20-minute drive from the parking lot of the mountain. Make sure to add Lookout Pass Ski & Recreation area to your winter bucket list.
For information on tickets and the mountain head over to their website. Ski Lookout Pass
Visit Alkaloid Cannabis Company On Your Ski Trip Near Spokane, WA
While you are traveling to check out these amazing ski and snowboarding resorts in the area, head to Alkaloid Cannabis Company for the best products to enjoy your time in the snow. Consume responsibly and remember cannabis is not legal in Idaho.